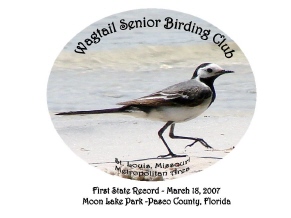 Welcome to my birding site. This site is dedicated to everyone who loves to observe or photograph wild birds. I hope you enjoy viewing the site.
Although I started watching birds at a very young age (10), I got into "serious birding" in the late 1970's, when I began to travel to new locations to see new species. I got my first 35 mm camera in 1981 and began shooting Kodachrome slide film locally and on my trips. In over 25 years I have accumulated thousands of slides of hundreds of species of birds and their nests.
Finally in April of 2007, I entered the digital age! My family bought me a Sony Cybershot camera with a built in 12X lens. This has opened up a whole new world of bird photography for me. It has also inspired me to create this website for others to enjoy my photos as well.
The Wagtail logo on this page resulted from a couple fellow St Louis birders, Dave Faintich, Dency Kahn and me, who on March 18, 2007, observed the first White Wagtail ever found in the state of Florida. This rare, unusual sighting was the 500th bird ever recorded in the state! For more information on this great discovery, click here.
If you wish to contact me regarding any information on this site, you can do so by
emailing me at dpwagtail@gmail.com.